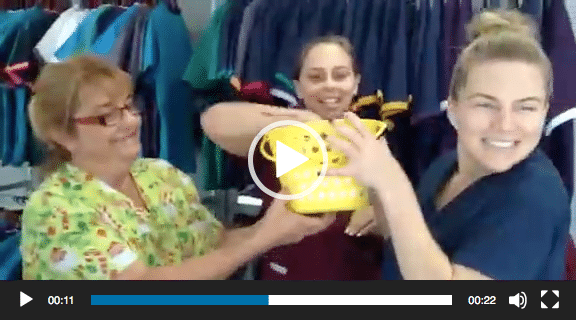 The MEDISCRUBS GAME OF CHANCE – AUSTRALIA WIN AN IPAD competition 2017, is done and dusted. We had a whole bunch of eligible entries, and we have picked out our lucky winner from the MEDISCRUBS 'LUCKY BASKET'.
Now, the only thing to do is announce the winner, right? But we can't just go boom, this is the #mediscrubs Lucky draw winner. We want to build the anticipation.
So, after nearly eight weeks and hundreds of eligible entries we finally can announce our lucky prize winner. Without further ado, the winner of our #WINANIPAD Competition is Lucy Wright from Kenmore, North Queensland.
Yes! Lucy Wright you are the winner of our iPad Mini giveaway.
When told she was our Lucky winner, Lucy, who was in total shock, asked our General manager Bronwyn "Are you serious?" Of course we are serious Lucy, and we know how appreciative you are of your big win. Lucy will becoming in to our store at Biggera Waters, Gold Coast to pick it up in the next week or so, and we look forward to handing over her prize.
CLICK HERE to watch the phone call that made Lucy's day
Thank you again to everyone who participated. To keep updated with future competitions and giveaways by @Mediscrubs make sure you are following us on Facebook at www.facebook.com/mediscrubs.uniforms or subscribe to our newsletters via our homepage. We have many competitions and prizes to be won in 2018!
Thanks to everyone who entered, bought scrubs, or simply watched from afar. You are all winners in our humble opinion. You win… our most heartfelt thanks.